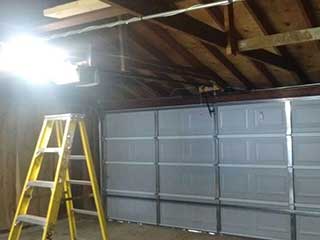 Well-kept garage doors are very important when it comes to the safety and security of your home. They can also become dangerous if malfunctions are allowed to develop. For this reason, it's important to contact a professional for a thorough maintenance check every now and again. Our technicians will inspect every inch of your system and ensure that it is safe for use. They'll do this by checking your door and repairing minor issues before they snowball and cause problems down the line. In the long run, this approach will allow you to continue using your system for a longer period of time.
Checking The Alignment
To keep your garage door functioning normally, it's important that it's kept balanced so that it that can move up and down on the tracks evenly and smoothly. If there is an issue with balance, this could indicate a problem with the springs. A door with balance issues may not shut evenly, and may leave a gap when it's supposed to be closed. This can compromise the security of your property by providing an opening that could be exploited by intruders or animals. It's not recommended that springs be handled by somebody other than a trained professional. Our technicians can help you make any tension adjustments as needed.
Condition Of The Springs
Your springs provide a counterbalance weight to the door and are basically responsible for the heavy lifting each time you open and close the door. This operation places the springs under a gigantic amount of pressure each time the door gets used. With continuous use over a long time, these parts can start to wear down. At some point it will be necessary to replace them for functionality and safety purposes. During a service visit, our technicians will inspect the springs, apply lubricant as needed to prevent against weather damage and rust. Our technicians will also check to ensure that your springs are functioning as best they can, by checking the connecting points and tension. If we see any signs of damage, we will be sure to let you know and provide our recommendations for the best course of action.
Give Your Sensors An Eye Check
All modern opener systems today come with safety sensors as standard. Our technicians will test your sensors and check they're working correctly. This way we eliminate any safety concerns that might be tied to the opener. We'll ensure that the 'line of sight' between the sensors is aligned, clear and free of debris. This should allow the system to function correctly while maintaining your ability to open and close the door correctly.
Contact Us Today
When the time comes to have your overhead door system maintained. Call our experts at Garage Door Repair East Northport, to make an appointment. We will make sure that all parts are well maintained. There is no job too big or small for us, and we've got experience with all makes and models of door!
In addition, count on us for:

Garage Door Tune Up Services

Damaged Parts Replacement

Emergency Broken Spring Replacement

Door Opener Troubleshooting Services