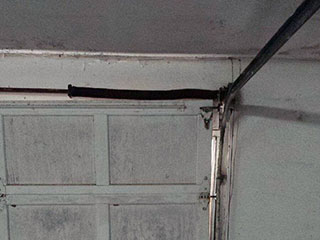 A typical domestic garage door can weigh more than 150 pounds. The job of hauling this weight up and down every time the door is cycled falls to the torsion and extension springs. These heavy-duty components are designed to work reliably for thousands of cycles, but will eventually need to be replaced. When that time comes, our technicians will be on hand to quickly provide a new set of springs, keeping your door working safely and reliably.
When To Replace Springs
If possible, you should avoid the point where your spring actually snaps. It's usually possible to avoid this by identifying springs that are beginning to wear out, and replacing them before they reach the point of failure. To do this, we recommend regularly checking your door for signs of sagging or swaying – these are usually good indicators that your springs are weakening. It's also essential to test the door's balance, making sure that it doesn't fall to the ground when you let go.
Replacing Worn Springs
Worn springs need to be replaced. Larger doors often have springs fitted in pairs, and in these cases both springs will have to be swapped out. This ensures that the door is properly balanced, and that the two springs have even tension between them. Do not try to do this yourself; these components can be extremely dangerous if not handled by a trained professional. If you think your springs are in need of attention, contact our team of technicians.
Which Springs Need Replacing?
Most garage doors are fitted with two types of spring. Torsion springs are long coils that sit above the door frame. These are used to open the door, and wind round as they take up the weight of the door. Other doors may have extension springs fitted, which are usually connected from the middle of the ceiling to the door itself on other side. These are used to slow the door when it closes, preventing it from slamming shut.
Contact Us Today
Weakening and worn-out springs need to be replaced as soon as possible. Contact Garage Door Repair East Northport today to arrange an appointment with our technicians.
Looking for more? We also offer:

LiftMaster Chain Drive Lubrication

Extension & Torsion Spring Replacement

Genie Garage Door Opener Services

Roll up Garage Door Maintenance