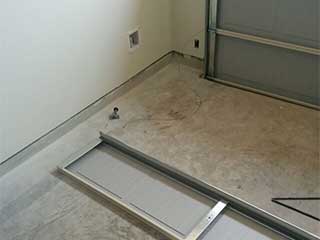 While a broken spring is one of the most common problems to affect garage door systems, there is a wide variety of additional issues that you may encounter over time. The great majority of malfunctions will need to be handled by expert technicians, which is why we encourage you to contact our team when you notice something is wrong.
Trouble With The Tracks
If you discover your door makes strange grinding sounds while in motion or that it seems to struggle to open and close, you may be dealing with bent tracks. Well-maintained tracks are essential for the smooth movement of the rollers. Subsequently, their alignment and condition should be looked after or you may deal with a door that's come off one of the tracks.
Opener Won't Start
Not all problems are mechanical, of course. Sometimes one of the different electrical components inside your opener can stop working. Troubleshooting and tracing the culprit in this instance can feel like looking for a needle in a haystack; a haystack with a bunch of other needles in it. Our technicians specialize in opener repair and troubleshooting, so you can count on us to locate the source of the problem, and quickly solve it.
The Springs Are Critical
While your opener is incredibly important, if it does break down, you'll always have the option of using the system manually. The same cannot be said about the springs. These units are invaluable, since they are the parts that support and counterbalance the weight of the door itself. Without them, opening your door becomes impossible, even manually. Replacing garage door springs is one of the services our team specializes in - seeing as these components can also be particularly dangerous when mishandled, you'll be more than glad you called us to take care of this.
Professional Through & Through
There are all sorts of problems our technicians can help you with. Don't hesitate to contact our team at Garage Door Repair East Northport whenever you find yourself facing a problem, whether connected to your lift cables or to the panels.
Couldn't find what you're looking for? We also offer:

Garage Door Opener Maintenance

LiftMaster Garage Door Opener Repairs

Garage Door Extension Spring Installation

Broken Garage Door Track Repair