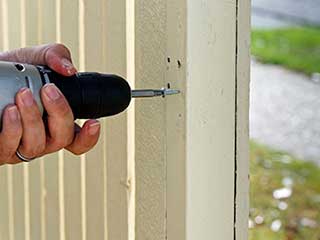 We don't only offer a wide range of garage door repair services, we are also extremely competent when it comes to automatic gates. We offer installation services, intercom reprogramming and can also provide maintenance to keep your gate in action for longer. Read on to find out more.
Gate Track Repairs
Tracks bend and sometimes might even fail altogether. Our team will be able to assess the condition of your tracks and determine whether or not the problem is resolvable or whether a part replacement is likely to be the best way forward.
Gate Opener Services
Your opener is responsible for the automatic activity of your gate - our team is here to help with any related issue you may be experiencing with your unit. We can help troubleshoot to identify the root cause of the issue - we're experienced when it comes to all opener types, we have the skills required to fix issues, install new units and perform maintenance.
Maintenance & Adjustment
During a service visit, we'll inspect your gate and check for damaged components or any hidden problems. We are meticulous technicians and promise an equally thorough job. Any worn parts will be replaced and we'll check the moving components are lubricated for smooth operation.
We can also make adjustments by taking care of the fasteners - if you've got a swing gate, we'll pay close attention to the condition of the swing gate hinges and the stability of the posts. We'll also tighten any loose fittings in an effort to ensure that the panels move and close properly.
New Intercom Installation
Our expertise when it comes to intercom installation means we've got plenty of experience with a wide range of systems and all the latest models. We can install a new intercom for you or reprogram an existing one.
Whatever your gate related need, contact our team today in East Northport - whether you're in need of a minor or major repair, or a new installation, our local experts are here to help.
Give our team a call if you need help with:

Gate Motor Replacement

Gate Exit Sensor Installation

Program Doorking Intercom

Swing Gate Safety Loops Sensors